Overview
The doctor winked at me and said, "Good man you got here!" And to Brad, he said, "It doesn't have to be tonight. We just have to make sure it's done before she gets pregnant again, and with you two, that isn't long. I'm going to keep her in the hospital a few days, and it can't happen here." He chuckled. "I would suggest that we talk within the next two weeks and set a date. In the meantime, I'll give you a pamphlet; look it over, and if you have any questions, we'll discuss them when we get together again."
All the time they were talking, I was getting quite anxious. What about my baby?! Have I had it? The nurses seemed to be busily cleaning the maternity room, and there was no baby in sight. Brad saw me looking around and knew I was anxious about something.
He squeezed my hand and said, "We've got ourselves a perfect little blonde baby girl! She's beautiful."
(From Chapter 95: Our Warning; My Surprise)
This memoir shares the journey of a young girl who forgoes college when she falls in love with a WWII veteran, and it details the couple's struggles and triumphs.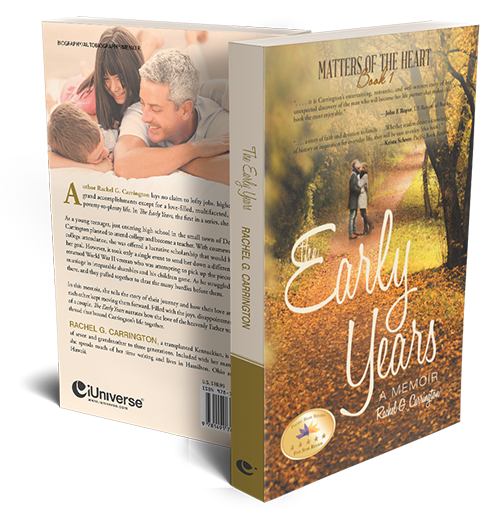 Recent Post
Pictures, book trailers, book signings, speaking engagements, and other guest appearances by the author will be posted on this page.
Welcome. My name is Rachel G. Carrington, author of The Early Years: A Memoir. I'm so happy to have you as a visitor to my blog about my new book. This project is very special to me, and I hope to share some of that excitement with you here. I'll be using this blog to